About Dr. Tanya Lawson, ND
Dr. Tanya Lawson, ND, is a licensed naturopathic doctor at Inbloom Health + Medispa, a premier spa in Londonderry, New Hampshire. She has been helping patients meet their health and beauty goals since 2006.
Dr. Lawson specializes in aesthetic, anti-aging and functional medicine. Her personalized approach allows her to combine the best in cutting edge wellness treatments and aesthetics, positioning her to provide her patients the very best care to meet their goals.
She has completed extensive training in anti-aging therapies such as injectables (botox, fillers, PRP), CoolSculpting, laser and many other therapies. However, wellness is at the core of her practice; her personalized, approach allows her to uncover the underlying causes of aging, dull skin, acne, fatigue, hormone problems, thyroid issues, digestive problems, weight gain, stress, depression, and anxiety.
Originally from Canada, she graduated magna cum laude from the University of Ottawa in Ontario, where she completed pre-medical studies and received her Bachelor of Arts in Psychology. She was the recipient of numerous scholar awards during this time.
Dr. Lawson completed her Doctorate in Naturopathic Medicine at the Canadian College of Naturopathic Medicine in Toronto, where she received the Women's Health Award for excellence in women's health promotion.
Dr. Lawson enjoys helping others achieve a natural, refreshed, youthful beauty from the inside out. Dr. Lawson has trained with many of the top injectors in North America which allows her to offer a truly personalized approach to aesthetics. She has completed advanced training in aesthetics from the American Academy of Anti-Aging Medicine, the International Association of Physicians for Aesthetic Medicine, the Cellular Medicine Association, Specialty Med Training, the Audrey Rose Institute and many other sought after trainings.
Dr. Lawson has also completed professional training in mind-body medicine and psychology at Harvard Medical School in Boston, and stress management and weight loss training at Benson-Henry Medical Institute for Mind-Body Medicine, also in Boston.
Dr. Lawson began practicing in 2006 after founding two integrative health centers and a medical spa that focused on noninvasive dermatological treatments and other anti-aging procedures. Her work earned Dr. Lawson the title of Young Entrepreneur of the Year at the regional business achievement awards. She also taught post-secondary continuing education at Loyalist College in Belleville, Ontario.
Since moving to the United States in 2013, Dr. Lawson has consulted for a nationally recognized cancer hospital in Atlanta and the largest integrative medical clinic in the southeast and also participated in research, which presentations at two national conferences accepted. Dr. Lawson returned to her passion of combining wellness with aesthetics in private practice in 2015 when she opened Inbloom Health + Medispa. She was recently recognized in Windham Magazine's "Best of Windham" for the Best Doctor category.
Dr. Lawson maintains her advanced credentials with continuing education. She is a member of the New Hampshire Association of Naturopathic Doctors and the American Academy of Anti-Aging Medicine. She has lectured at national conventions and has written for professional magazines. Dr. Lawson even appeared as a wellness expert on television and radio, and in print.
Patients describe her as warm, energetic, and caring, Dr. Lawson enjoys coaching patients to take an active role in their wellness to stay happy and healthy, to feel their best, and thrive in everything they do.
In her free time, she enjoys spending time with her husband and three beautiful daughters.
Dr. Lawson welcomes new and existing patients to Inbloom Health + Medispa and looks forward to helping them reach their health and beauty goals.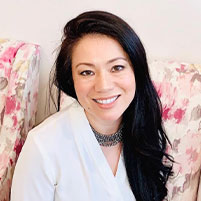 About Laura Luippold - Office Manager
Laura is excited to join the Inbloom Health team and looks forward to assisting patients as they put their trust in us throughout their journey to reach their health and wellness goals. With an extensive background in customer service, coupled with years of management and leadership in healthcare/retail environments, Laura looks forward to assisting Dr. Lawson and her team in facilitating the exceptional care and service that our clients have come to expect here at Inbloom.
When Laura is not at the office, she can generally be found enjoying life with her husband and 2 very active children. She loves volunteering in her community and for various organizations dear to her heart, and was presented with an award from the RI National Guard for her service in assisting RI military families. She is also very active in taking steps to achieve her own health and wellness goals through learning about healthy nutrition, attending barre/fitness classes, spending time outdoors with her children, and surrounding herself with positive people who compliment and reinforce her vision of personal wellness.
About Kellie Wallman - Medical Receptionist
Kellie joins our team with a strong background in business management and she has also spent the last seven years as a makeup artist. She is passionate about the medical and aesthetic aspects of the industry. She loves helping people look and feel their best, starting from the inside - out. When she is not at Inbloom, you can find her on the water kayaking!
About Tera Mullin RN, BSN - Aesthetic Nurse
Tera Mullin RN, BSN graduated from the University of New Hampshire and brings 15 years of nursing experience to the practice. She started her career in Labor & Delivery and then shifted her focus towards aesthetics. The last two and a half years were spent working at a plastic surgeon's office in their operating room. Tera has also taken additional coursework on neurotoxins and dermal fillers and has extensive IV and injectable background. In her spare time she enjoys being with her husband, 3 children, and their yellow lab. She's looking forward to meeting our patients and providing them with compassionate care.